The place to be this summer has been lakeside in Albert Park. KDPO helped the teams behind South Melbourne diner Half Acre and catering creatives food&desire establish a pop-up urban retreat that makes the picnic rug a chic accoutrement indeed.
Lakeside at Carousel was all about giving event-starved Melburnians the chance to grab a COVID-19 safe picnic spot on the grass (with the option to hire furniture to make it even more comfortable) where they could enjoy delicious food and drinks and bask in the much-missed ambience of live music.
Taking over the Carousel building – the pre-COVID home of Melbourne's ritziest society events – and the adjacent grassy Pelican Lawn, Lakeside at Carousel has been doing the hallowed real estate proud with Insta-worthy picnic set-ups and happy picnickers.
They've been enjoying a menu of modern favourites from meze platters with falafel, barbecue shawarma chicken, hummus and labneh to cheese and charcuterie boards and Southern fried chicken burgers, Chicago hot dogs and more. The chocolate ice-cream "cookie monster" is strictly for the adults only, thanks to its finishing shot of espresso martini.
You can also pop by for breakfast daily with a selection of acai bowls, fruit salad and bacon and egg rolls to takeaway and, for the duration of the Australian Open, screens have been set up so you can match all the tennis action with catered comfort and a stunning location.
It has proved big news, with coverage on network TV news and in Broadsheet, GQ, The Age Good Food, Herald Sun, Concrete Playground and Time Out Melbourne.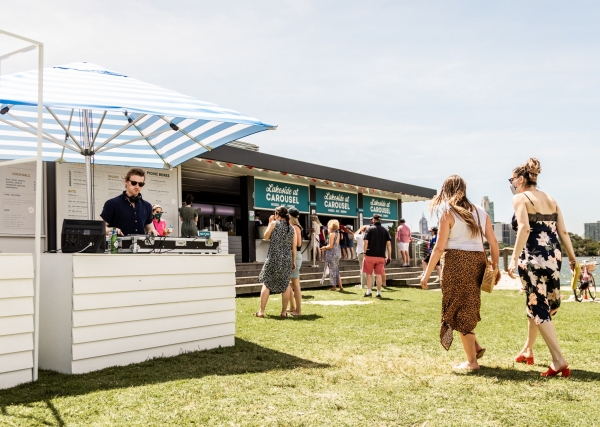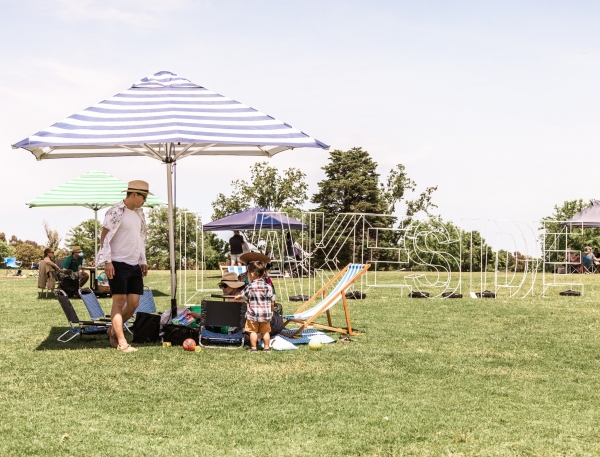 Images by Lucas Worcester.