We at KDPO are firmly in the pro-chocolate camp, so it was a thrill to launch Hunted + Gathered's new chocolate spread range, along with the retail release of their cooking chocolate.
You've probably already heard of these cool kids on the chocolate block, but by way of backstory, Hunted + Gathered was started in 2012 by Melbourne brothers Harry and Charlie Nissen to fill a gap in the market for chocolate that was minimal, organic and ethically sourced.
The three chocolate nut spreads are made from Hunted + Gathered's most popular chocolate – 70 per cent single origin beans from the Dominican Republic – which is blended with biodynamic and/or organic nuts to form a deliciously smooth paste. It comes in almond, hazelnut and peanut, and each jar contains more than 50 per cent nuts (so it's good for you too!). Try it on toast – or if you're like us you'll spoon it straight from the jar.
The range is stocked at top Melbourne bakeries, including Q le Baker, Bread Club, Baker Bleu and Wildlife Bakery and you can read stories about the spreads in the Guardian, Broadsheet, Urban List and Good Weekend.
As for the cooking chocolate, you only need to take the word of chef luminaries such as Lauren Eldridge (Stokehouse), Alex Prichard (Icebergs) and Ben Shewry (Attica) to attest to its quality.
It was previously only available wholesale to hospitality folk, but the retail release now means that any home cook is free to let their imaginations run wild in the kitchen with the very best quality chocolate. Just try not to fight over who gets to lick the bowl.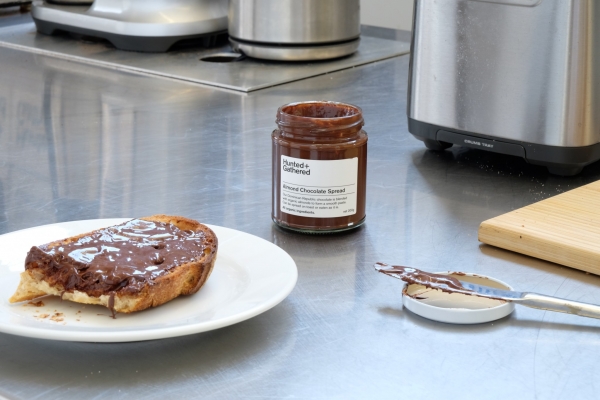 Images supplied by Hunted + Gathered.